Travis Scott is not only a rapper, but also a filmmaker. He has just released his mysterious theatrical film, Circus Maximus, which is a companion to his new album, Utopia. The film features contributions from some of the most acclaimed and visionary directors in the world, such as Gaspar Noé, Nicolas Winding-Refn, Harmony Korine, Valdimar Jóhannsson and Kahlil Joseph. Here's everything you need to know about this cinematic event.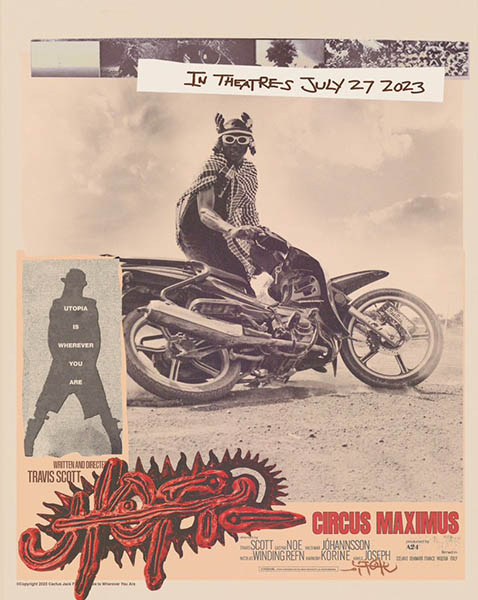 What is Circus Maximus about?
Circus Maximus is a surreal and psychedelic journey that takes Travis Scott and his audience across the globe, exploring the human experience and the power of soundscapes. The film is a kaleidoscopic mix of music videos, documentary footage, animation and experimental cinema, showcasing the songs from Scott's highly anticipated album, Utopia.
Who are the directors involved?
Travis Scott is credited as the writer and director of Circus Maximus, but he also collaborated with five other filmmakers who are known for their distinctive and provocative styles. Here's a brief introduction to each of them:
Gaspar Noé: The Argentine-French director of controversial films such as Irreversible, Enter the Void and Climax, Noé is a master of visual storytelling, using long takes, psychedelic colors and immersive soundtracks to create intense and visceral experiences.
Nicolas Winding-Refn: The Danish director of stylish and violent films such as Drive, Only God Forgives and The Neon Demon, Refn is a fan of neon lights, synth music and existential themes, often exploring the dark side of fame, beauty and crime.
Harmony Korine: The American director of cult films such as Gummo, Spring Breakers and The Beach Bum, Korine is a pioneer of indie cinema, blending realism, absurdity and humor to depict the lives of outsiders, rebels and misfits.
Valdimar Jóhannsson: The Icelandic director of the recent horror film Lamb, which won the Prize of Originality at Cannes Film Festival, Jóhannsson is a newcomer to the scene, but has already impressed critics and audiences with his atmospheric and unsettling vision of nature, folklore and family.
Kahlil Joseph: The American director of acclaimed music videos for artists such as Beyoncé, Kendrick Lamar and FKA Twigs, Joseph is a visionary of the medium, using poetic imagery, nonlinear narratives and cultural references to create cinematic portraits of black identity, history and art.
How can you watch Circus Maximus?
Circus Maximus will premiere on July 27 at select AMC theaters across the US. You can check the showtimes and book your tickets on the AMC website. The film will also be available to stream on Apple Music on July 28. The film's running time is 90 minutes.
Why should you watch Circus Maximus?
Circus Maximus is not only a film, but also an event. Moreover, it's a celebration of Travis Scott's artistic vision and musical talent. In addition, it's a collaboration of some of the most creative minds in cinema. Furthermore, it's a spectacle that will blow your mind with its stunning visuals and sounds. Finally, it's a chance to witness history in the making.
If you're a fan of Travis Scott or any of the directors involved, you don't want to miss this film. It's a rare opportunity to see their work on the big screen, in all its glory. It's also a great way to discover new music from Scott's album, Utopia, which will be released on July 28.
So what are you waiting for? Grab your popcorn, put on your headphones and get ready to enter Circus Maximus. You won't regret it.
>>> If you want to show your love for Travis Scott and his amazing film, Circus Maximus, you need to check out Honateez. Honateez is the best place to buy Travis Scott merch, from t-shirts and hoodies. You can find exclusive designs and styles that will make you stand out from the crowd. Don't miss this opportunity to get your Travis Scott merch at Honateez. Visit website today and order!
Realated: Travis Scott Releases New Album Utopia:  Stream It Now