Harry Styles has concluded his epic Love on Tour, which spanned two albums, nearly two years and more than 160 shows across five continents. The tour, which promoted his second solo album Harry's House, has become one of the 10 highest-grossing tours of all time, according to Billboard Boxscore.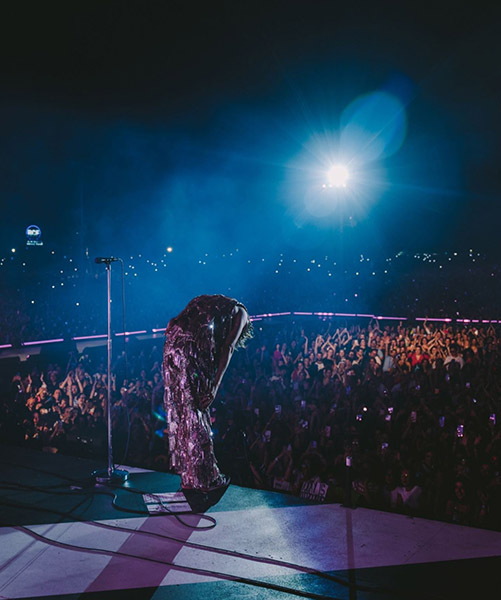 The final show of the tour took place on Saturday night (July 22) in Reggio Emilia, Italy, at RCF Arena. Styles surprised his fans with an extra encore: a new instrumental song that he performed on the piano for about 10 minutes. The song, which has no title or lyrics yet, was a beautiful and emotional way to end the tour.
New Instrumental Song
Styles closed the show with a new song that was new to fans: It went on for about 10 minutes and it was an instrumental ballad, with Styles on piano. His name and the phrase "new song" trended on Twitter on Saturday as fans reacted to hearing new music from Styles at his final Love on Tour date.
Heartfelt Speech
Styles also delivered a heartfelt speech to the audience, thanking them for their support and love. He said:
"I don't get to do this if you guys don't come. I know that more than anyone else. You guys being here tonight, I know you wanted to make it special for me. You make it special for me every single night.
The atmosphere that you have created, the family that you have created, this safe space that you have created. I want to thank you for everything.
I know feeling so incredibly small in this world it can be really, really difficult to feel like anything you can do can make a difference. I promise you, I see it all the time in the little things that you do and the way that you treat each other. How it has affected all the people around me, how it has affected people out there, it is so much bigger. It does not end when this tour ends. I want you to continue it. Put love out into the world. It needs it a bit right now. I love you all so much, and I'm gonna miss you. I will be loving you so, so much — if you've been supporting me for one year, five years, 13 years, whatever it is. Not only have you changed my life over and over again, but you've made me the happiest. I'm so thrilled and happy to be here tonight. I'm so, so happy."
Special Guests
Harry Styles also invited Wet Leg, one of his favorite bands and support acts for his Australian/New Zealand tour in 2023, to join him on stage for a rendition of their song Wet Dream.
The former One Direction star also had a special guest at his final show: James Corden, who crashed the stage dressed as a watermelon slice, referencing Styles' hit song Watermelon Sugar.
>>> If you enjoyed this blog post, you'll love the other Music blogs at Honateez. Check them out now and discover more amazing stories and insights from the world of music.