Taylor Swift has officially confirmed the dates for her much awaited Asia leg of her lauded Eras tour, which will visit Japan and Singapore in 2024.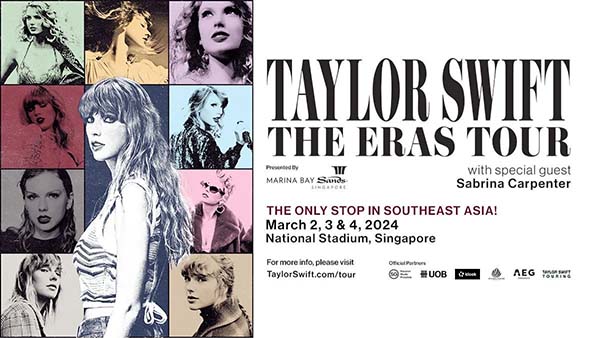 Music producer AEG Presents Asia revealed the tour dates for Taylor Swift's Eras tour in Singapore. Taylor Swift will perform three shows at the Singapore National Stadium from March 2 to March 4, 2024. Sabrina Carpenter will join her as a special guest. These are the only dates for the Eras tour in Southeast Asia, according to AEG Presents.
You can register for Taylor Swift's The Eras Tour from June 23 to June 28 at 12 p.m. local time. UOB Cardmembers can buy pre-sale tickets from July 5 at 12 p.m. to July 7 at 9 a.m. local time. General tickets will be available on July 7 at 12 p.m. local time on Ticketmaster.
Prior to Singapore, she will perform in the Tokyo Dome in Japan from February 7 to February 10. Carpenter is not scheduled to perform on these days.
Conclusion:
Taylor Swift announced 'Taylor's Version' of her third album, 'Speak Now,' on stage at her 'Eras' tour in Nashville in May. The re-recorded album will come out on July 7, featuring special guests Fall Out Boy and Hayley Williams from Paramore.
>>> Do you want to keep up with Taylor Swift news? Then you need to visit Honeteez! Honeteez is the best place to find the latest updates on Taylor Swift, from her music, tours, awards, and more. Honeteez will keep you in the loop with everything Taylor Swift.
Related:
Speak Now (Taylor's Version) by Taylor Swift Collaborations between Hayley Williams and Fall Out Boy
Taylor Swift The Eras Tour: A Journey Through Time and Music