Taylor Swift is one of the most successful and influential artists of our generation. She has released 11 studio albums, won 11 Grammy Awards, sold over 200 million records worldwide, and broken countless records in the music industry. But she is not done yet. In 2023, she embarked on her sixth concert tour, The Eras Tour, which is unlike any other tour she has ever done before.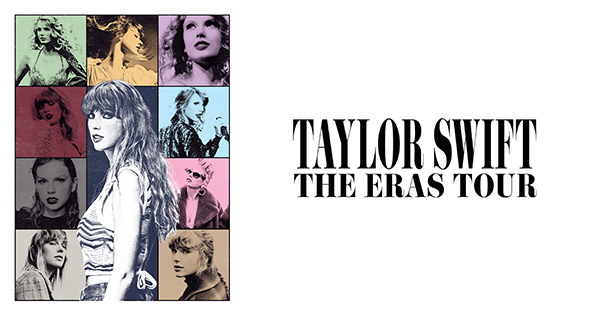 The Eras Tour is a tribute to all of Swift's musical eras, from her self-titled debut album in 2006 to her latest masterpiece, Midnights, in 2022. It is also a celebration of the albums that did not get a proper tour due to the COVID-19 pandemic: Lover, Folklore, and Evermore. The tour spans over three hours, with a set list of 44 songs divided into 10 distinct acts that showcase the different themes, styles, and aesthetics of each album. The tour features stunning visuals, elaborate costumes, dazzling choreography, and special guests.
This tour started in Glendale, Arizona, on March 17, 2023, and will end in London, England, on August 17, 2024. It will travel to stadiums in North America, Latin America, Europe, Asia, and Australia. Critics and fans have praised the tour and demanded more tickets. The tour has also overcome some challenges, such as technical difficulties, scalping issues, and COVID-19 safety protocols.
In this blog post, we will take you through the highlights of the Eras Tour so far, and give you some tips on how to get tickets and enjoy the show.
The Set List
The Eras Tour is divided into 10 acts, each representing a different album or era of Swift's career. The acts are:
Taylor Swift: The first act features songs from Swift's debut album, Taylor Swift (2006), which introduced her as a country-pop singer-songwriter.
Fearless: The second act features songs from Swift's second album, Fearless (2008), which won her the Album of the Year Grammy Award and cemented her as a global superstar.
Speak Now: The third act features songs from Swift's third album, Speak Now (2010), which she wrote entirely by herself and showcased her storytelling skills.
Red: The fourth act features songs from Swift's fourth album, Red (2012), which marked her transition from country to pop music and explored the emotions of love and heartbreak.
1989: The fifth act features songs from Swift's fifth album, 1989 (2014), which was influenced by the synth-pop sound of the 1980s and earned her another Album of the Year Grammy Award.
Reputation: The sixth act features songs from Swift's sixth album, Reputation (2017), which was inspired by the media scrutiny and public backlash she faced after several feuds with other celebrities.
Lover: The seventh act features songs from Swift's seventh album, Lover (2019), which was a return to her pop roots and celebrated love in all its forms.
Folklore: The eighth act features songs from Swift's eighth album, Folklore (2020), which was a surprise release during the COVID-19 lockdown and explored the indie-folk genre.
Evermore: The ninth act features songs from Swift's ninth album, Evermore (2020), which was another surprise release and a sister album to Folklore.
Midnights: The tenth and final act features songs from Swift's eleventh album, Midnights (2022), which was her most experimental and ambitious album to date.
The Reviews
The Eras Tour has received universal acclaim from critics and fans alike, who praised the concept, production, diversity, and performance of the show. Here are some excerpts from some of the reviews:
Rolling Stone: "Taylor Swift's Eras Tour is a masterclass in pop music history and storytelling. She takes us on a journey through her remarkable career, showcasing her evolution as an artist and a person. She delivers each song with passion, precision, and personality, making us feel every emotion along the way. She also surprises us with special guests, stunning visuals, and unexpected twists. The Eras Tour is not just a concert, it's an experience."
Billboard: "Taylor Swift's Eras Tour is a spectacle of epic proportions. She transforms each stadium into a different world, reflecting the themes and aesthetics of each album. She performs 44 songs with incredible stamina and versatility, switching genres, styles, and moods with ease. She also connects with her fans on a personal level, sharing stories, jokes, and gratitude. The Eras Tour is not just a show, it's a celebration."
Variety: "Taylor Swift's Eras Tour is a triumph of creativity and innovation. She reinvents each song with new arrangements, interpretations, and collaborations, making them fresh and exciting. She also experiments with different technologies, such as lasers, holograms, and video screens, creating immersive and dazzling effects. The Eras Tour is not just a tour, it's an art."
The Tickets
The Eras Tour is very popular and tickets are hard to get. Here are some tips to help you:
Register for Ticketmaster's Verified Fan program: You can get presale tickets with a code sent to your phone. Register online before the deadline.
Join Taylor Nation: You can get exclusive content, merchandise, and presale tickets with a code sent to your email. Sign up online and pay a yearly fee.
Check out secondary ticket markets: You can buy tickets from resellers on platforms like StubHub, SeatGeek, or Viagogo. But be careful of high prices and fake tickets. Check the seller and the ticket before buying.
Enter sweepstakes and contests: You can win free tickets or VIP packages from radio stations, magazines, websites, and sponsors. Follow their instructions online or on social media. But watch out for scams and frauds that ask for your information.
Arrive early and be prepared: If you have tickets, go to the venue early and bring your ID, ticket, phone, charger, water, snacks, and cash. Wear comfortable clothes and shoes. Follow the security and COVID-19 safety rules.
Conclusion
The Eras Tour is a once-in-a-lifetime opportunity to witness Taylor Swift's musical legacy and brilliance. It is a show that will make you laugh, cry, sing, dance, and feel inspired. It is a show that you don't want to miss.
If you are a fan of Taylor Swift, or even if you are not, we highly recommend that you try to get tickets and see the Eras Tour for yourself. You will not regret it. For more information on the tour dates, venues, tickets, and merchandise, visit the official website: https://www.taylorswift.com/tour/
We hope you enjoyed this blog post and learned something new about Taylor Swift and the Eras Tour. If you did, please share it with your friends and family, and leave us a comment below. We would love to hear your thoughts and opinions. Thank you for reading!
>>> If you love Taylor Swift and her Eras Tour, you'll love Honateez Store. It's the best place to buy Taylor Swift merch online. We have t-shirts, hoodies, posters, and more, all inspired by Swift's albums and eras. Hurry and order yours before they run out!
Taylor Swift The Eras Tour I Can Still Make The Whole Place Shimmer Fan Gifts Home Decor Poster Canvas
Related: Taylor Swift will perform three concerts in Singapore in 2024 as part of The Eras Tour's sole Southeast Asian destinations.