Travis Scott has done it again. The rap superstar has achieved his first No. 1 album in the U.K. Charts with his latest masterpiece, Utopia. But how did he manage to pull off this feat in a market dominated by pop and rock? In this post, we'll explore the secrets behind Scott's success, from his stellar collaborations to his creative marketing strategies.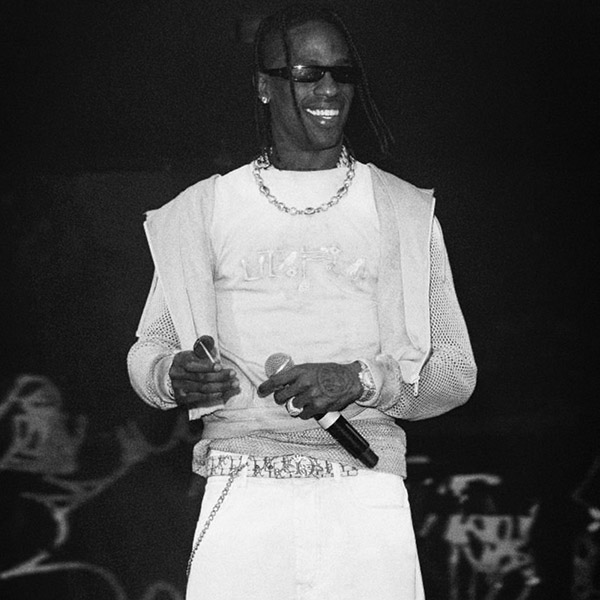 The Making of Utopia
Utopia is Scott's fourth studio album, which was released on July 28, 2023, by Cactus Jack and Epic Records. The album features 19 tracks, with a total runtime of 77 minutes. Utopia showcases Scott's diverse musical influences, ranging from psychedelic rock to trap to pop. The album also boasts a star-studded lineup of guest appearances from artists such as Drake, Beyoncé, The Weeknd, Kid Cudi, Future, SZA, Young Thug, and more.
Scott began working on Utopia shortly after the release of his 2018 critically acclaimed album, Astroworld, which earned him his second Grammy nomination for Best Rap Album. Scott spent two years recording and producing Utopia in various locations, including his home studio in Los Angeles, Hawaii, London, and Paris. He also enlisted the help of some of the most renowned producers in the industry, such as Mike Dean, Hit-Boy, WondaGurl, Frank Dukes, and Metro Boomin.
Scott described Utopia as a "journey" and a "reflection" of his life and experiences. He said that he wanted to create an album that was "different" and "innovative" from his previous works. He also said that he wanted to challenge himself and push the boundaries of his sound and style.
The Critical Reception of Utopia
Utopia received mixed reviews from critics, who praised Scott's production skills and sonic experimentation, but criticized his lack of lyrical depth and originality. Pitchfork gave the album a 5.7 out of 10, calling it "a big, empty rap blockbuster that lives in the shadow of other bigger, less-empty rap blockbusters" and accusing Scott of copying Kanye West's style. On the other hand, Rolling Stone gave the album a 4 out of 5 stars, calling it "a thrilling ride through Scott's twisted mind" and applauding his ability to create "a cohesive vision out of chaos".
Utopia also received positive feedback from fans and fellow artists, who expressed their admiration and support for Scott's work. Drake, who collaborated with Scott on the track "Fair Trade", called Utopia "a masterpiece" and "a classic". Beyoncé honored Scott as "one of the most talented and creative artists of our time" when she featured on the track "Out for the Night". The Weeknd praised Scott's vision as "blowing him away" when he appeared on the track "Wake Up". Both artists expressed their pride in being part of Utopia.
The Promotion of Utopia
Innovative and unconventional marketing strategies define Scott, who often creates immersive experiences for his fans and generates buzz on social media. For Utopia, he employed several tactics to promote his album and engage his audience.
One of the most notable examples was his plan to perform new songs from the album during a concert at the Pyramids of Giza in Egypt. However, that was canceled on July 26 over "complex production issues". Instead, he released a film titled Circus Maximus, which accompanies the album and features surreal imagery and narration by Dave Chappelle. The film was directed by Harmony Korine, who previously worked with Scott on his short film Look Mom I Can Fly.
Another example was his collaboration with McDonald's, which launched a limited-edition Travis Scott Meal in September 2022. The meal consisted of a Quarter Pounder with cheese, bacon, lettuce, pickles, onions, ketchup, mustard; medium fries with BBQ sauce; and a Sprite. The meal also came with exclusive merchandise inspired by Scott's Astroworld tour. The Travis Scott Meal was a huge success, selling out in many locations and causing shortages of ingredients.
Scott announced his partnership with PlayStation as a strategic creative partner in October 2022. He appeared in a video promoting the PlayStation 5 console, featuring snippets of new songs from Utopia. He also designed a special edition Cactus Jack x PlayStation 5 controller, which he gave away to lucky fans via social media contests.
The Future of Travis Scott
Travis Scott is one of the most influential and successful artists of his generation, with over 50 million records sold worldwide and numerous awards and accolades under his belt. With Utopia, he has proven once again that he can create a cultural phenomenon with his music and vision.
Several music festivals this year, including Lollapalooza in Chicago, Reading and Leeds in England, and Governors Ball in New York, will feature Scott as their headliner. He plans to announce a world tour for Utopia soon.
>>> If you are a fan of Travis Scott and his music, you might want to check out Honateez, a website that offers a variety of merchandise inspired by the rap superstar. Honateez has a collection of T-shirts, hoodies, hats, accessories, and more, featuring Scott's signature style and logo. You can also read more about Scott's life, career, and achievements on the website's blog section. Whether you want to show your support for Scott, or just want to spice up your wardrobe with some cool and trendy items, Honateez is the place to go. Visit Honateez today and get your Travis Scott merch before it sells out! [Click here] to browse the Honateez website.