Suwannee Hulaween 2023 is the perfect festival for you if you love Halloween, music, and art. The festival celebrates its 10th anniversary this year, and it will host a variety of musical acts, stunning visual arts, and a magical atmosphere at The Spirit of the Suwannee Music Park in Live Oak, FL from October 26th to 29th.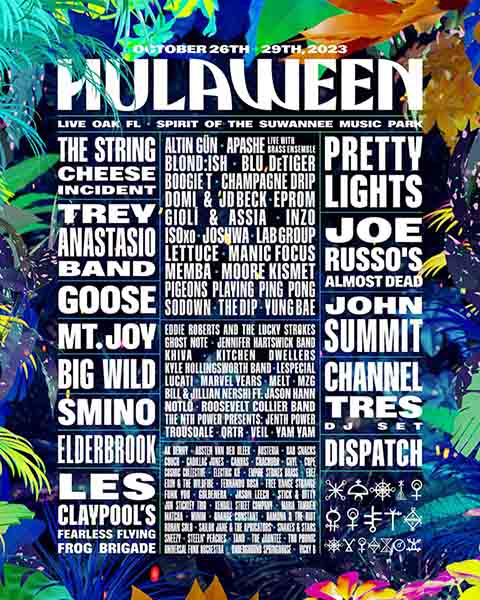 In this blog post, I'll show you how to get your passes, what to look forward to from the music and art, and how to have a fun and memorable experience.
How to Get Your Passes
Suwannee Hulaween 2023 offers various types of passes, depending on your budget and preferences. You can choose from General Admission, VIP, or Glamping passes, which all include access to the festival grounds and primitive camping for four days.
Beside, You can also purchase camping add-ons, such as car passes, RV passes, or cabins, if you want to upgrade your accommodation. You can find all the details and prices of the passes on the official website.
What to Expect from the Music and Art
Suwannee Hulaween 2023 boasts an impressive lineup of more than 90 acts that cover all genres of music, from rock to electronic to funk. Some of the headliners include Trey Anastasio Band, Goose, Pretty Lights, Joe Russo's Almost Dead, and The String Cheese Incident, who will perform seven sets over the weekend. You can see the full lineup on the official website.
But music is not the only attraction at Suwannee Hulaween 2023. The festival also features the Spirit Lake visual arts extravaganza, which transforms the natural landscape into a wonderland of lights, sculptures, installations, live painting, and interactive art. You can explore the Spirit Lake area at night and immerse yourself in a sensory feast that will leave you awe-struck. You can also participate in workshops, yoga sessions, costume contests, and other activities that will enhance your festival experience.
How to Make the Most of Your Experience
Suwannee Hulaween 2023 is more than just a festival; it's a community of like-minded people who share a love for music, art, and nature. To make the most of your experience, you should follow some tips and guidelines that will help you have a safe and enjoyable time.
Plan ahead: Before you head to the festival, make sure you pack everything you need for camping, such as a tent, sleeping bag, flashlight, water bottle, sunscreen, etc. You should also check the weather forecast and dress accordingly. You can find a comprehensive packing list on the official website.
Arrive early: The festival gates open on Thursday, October 26th at 8 am. If you want to avoid long lines and get a good spot for camping, you should try to arrive as early as possible. You can also purchase an early camping pass if you want to arrive on site before Thursday.
Respect the rules: Suwannee Hulaween 2023 has some rules and regulations that you should follow to ensure a smooth and safe festival experience for everyone. For example, you should not bring any glass containers, fireworks, weapons, or pets to the festival grounds. You should also respect the environment and dispose of your trash properly. You can find all the rules on the official website.
Have fun: Suwannee Hulaween 2023 is a celebration of music, art, and life. You should have fun and enjoy yourself with your friends and fellow festival-goers. You should also be open-minded and respectful of others' opinions and preferences. Remember that everyone is there for the same reason: to have a spooky and spectacular time.
I hope this blog post has given you some useful information about Suwannee Hulaween 2023. If you're interested in attending this festival, don't hesitate to get your passes today. You won't regret it. Suwannee Hulaween 2023 is a once-in-a-lifetime experience that you'll never forget. See you there!
>>> Do you love music and want to learn more about the latest trends, tips, and tricks? If so, you'll love Honateez, the ultimate music blog for music lovers. Honateez covers everything from music production to music festivals, and features interviews with your favorite artists. Whether you're a beginner or a pro, you'll find something useful and interesting on Honateez. Don't miss out on the best music content on the web. Click here to read more music blogs at Honateez today!